EGG GALLERY: Celtic Design Eggs

Designs Inspired by the Ancient "Book of Kells"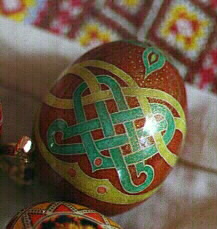 Celtic Knot
Chicken Eggshell #017

Birds of Prey
Goose Eggshell #027

Knotted Lions
Goose Eggshell #071 —

Knotted Vultures
Goose Eggshell #072

Celtic Strength
Goose Eggshell #075 —

Hounds & Vultures
Rhea Eggshell #038

Celtic Lions
Etched & Dyed Emu Eggshell
#069
© Note: It is illegal to copy, reprint or reproduce in any form, electronic or otherwise, any of the images or portions of the images shown at this website without consent. For personal or commercial use of any photographs or designs, please contact the owner.

---
HTML Translation, including ribbons and icons by GBarkman Art & Design © 2002 GBarkman.
Egg Images, Designs & Text © 2002 P. De Angelo. "All Rights Reserved".